I have been active on this site since march 9th 2004 ( on my 36th birthday ) and it was..
  ..we ALL made it into
a great place
, mainly between 2004 and 2006.
Despite all odds this website is still here, but it has lost many pages, many members..
  ..and much of its appeal, it seems, which deeply saddens me.
MAYBE WE ELFQUEST FANS COULD THINK TOGETHER ..

.. OF WAYS TO BRING MORE LIFE AND SOME SOUL TO IT ANEW !
First thing I'll do, in this 'Blog' is
collecting links to SOME ( +/- surviving ) threads and pages
..
  ..in order to provide newcomers ( at least ) a kind of global panorama of this place.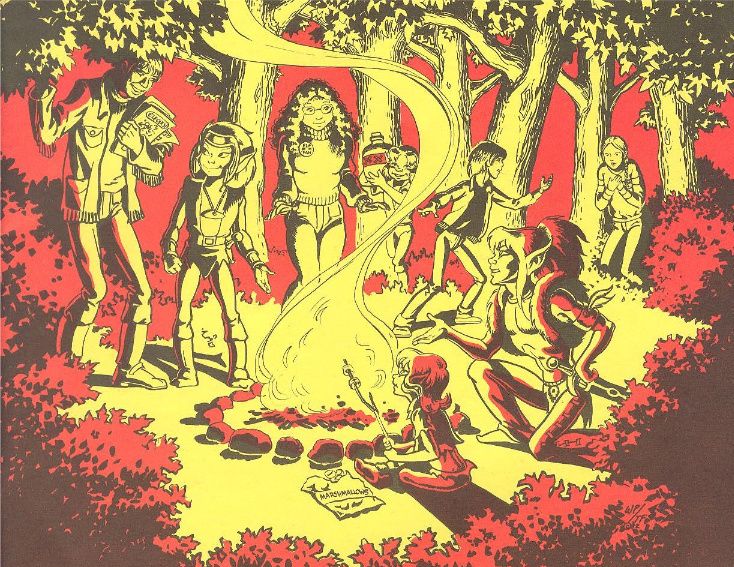 ✧ Welcome into our tribe! ✧



WHO WE ARE + +

WHAT WE LOOK LIKE + +

THE OLD-TIMERS +




✧ Please settle down coolly.. ✧



BASIC QUESTIONS +

AVATARS AND BANNERS FOR EVERYONE + + + +

HELP FOR YOUR PROFILE PAGE




✧ Isn't our Father Tree a wonderful place?.. ✧



THE ELFQUEST COLLECTION +

INTERNATIONAL EDITIONS - ALBUMS

BoTC ANTHOLOGIES +

WE CAN READ ALL ELFQUEST ON-LINE!

OFFICIAL ELFQUEST NEWS

ELFQUEST ART ONLY GALLERY +

WILL THERE EVER BE AN ELQUEST MOVIE ? + +

NEWER WENDY PINI AND ELFQUEST ART

ELFMOM'S SKETCHBOOK



FINAL QUEST

 

+

 

+

 

+

 

+

 

+

 

+


"Someone finally, totally got it!" ( Wendy Pini )


Prologue

( here and at Boing Boing )  

Cover




1

 

2

 

3

 

4

 

5

 

6

 

7

 

8




9

 

sp.

 

10

 

11

 

12

 

13

 

14

 

15

 

16




17

 

18

 

19

 

20

 

21

 

22

 

23

 

24




25

 

26






✧ There is MUCH to see, here.. and even MORE to explore together.. ✧



DISCUSSING ON ELFQUEST +

"WHO'S WHO" in Elfquest +

THE ELFQUEST TIMELINE

EARLY ART BY WENDY AND +/- FORGOTTEN TREASURES

YOUR FAVORITE ELFQUEST PICTURES +

YOUR MOST / LEAST FAVORITE ELF / ELVES + +

ELFQUEST FAN ART AND FAN FICTION + + +

HOLTS + + +

LIST OF ELFIN POWERS +

ELFIN LANGUAGE +

SILLY QUESTIONS THAT GO UNANSWERED

ELFQUEST CHARACTERS - COSTUME CHANGES

THE GREAT ELFQUEST BLOOPER HUNT

ABODEAN ANIMAL LIFE

MYSTERIES




✧ ..and if you need something: just ask! ✧



WOLFRIDER SHOP +

EMBALA'S COLLECTION OF WONDERS + + + + +

ELFQUEST PLAYING CARDS ( and more, by Joselle )

IF YOU WANT SCANS

IF YOU LIKE DOLLS + + + +

IF YOU LIKE WALLPAPERS +

IF YOU LIKE CCG

IF YOU LIKE VIDEO GAMES

IF YOU LIKE PINUP CALENDARS

IF YOU LIKE VIDEOS + + + + + + + + + + +

IF YOU LIKE REAL DOLLS +

IF YOU LIKE SHAPING TREES ( FOR REAL )




✧ Of course we have fun, too!.. ✧



QUIZZES

GAME: PICTURE TRIVIA

GAME: QUOTE TRIVIA

GAME: WHO AM I ?

GAME: ELQUEST IQ

GAME: WHAT'S YOUR FAVOURITE .. ?

GAME: YOU KNOW YOU'RE CRAZY ABOUT ELFQUEST WHEN YOU ..

GAME: WHAT IF ... THEN ...

GAME: THREE WORD STORY

EASTER EGGQUEST

ELFQUEST DIARIES

100 WAYS TO ANNOY WINNOWILL



THEN some suggestions, ideas, remarks, critics, comments, etc. will be gathered here, I hope..
  ..and DISCUSSED, EXPLORED, SYNTHESIZED, WITH SOME SOLUTION(S) VOTED UPON, DECIDED UPON..
  ..in order to help US ALL turning these Forums into a wonderful experience for everyone.
MAIN ISSUES :



#1: Too many posts and pages have been LOST, and far too many links are now dead
#2: The Search system gives only ONE page of results
#3: Wendy and Richard do not PARTICIPATE to or COMMUNICATE with our dear Scroll enough
#4: When a user cancels her/his account, it DELETES the posts
#5: Too many useless, dead or repeat threads - this place needs an INTELLIGENT CLEANSING
#6: There CANNOT be actually so many 'members' (5257 at last count !!) - SECURITY concern
#7: The chat system STILL doesn't seem to work
#8: The Browse Members system, with conditions, gives onle ONE page of valid results




Minor Issues :



#1: Getting to a post from the Wall should open the related PAGE, in order to read the post in context
#2: The Dash board and most Profile pages are getting TOO LOOOOOONG, with time
#3: Album privacy is not guaranteed - the sharing system doesn't seem to work well
#4: No help provided for the CSS section in the Profile Designer
#5: The 'Cosmic' Theme, set by default to the Profile page Theme prevents background pictures to be seen
#6: The 'Cosmic' Theme, set by default to the Dashboard Theme prevents some covers to be seen
#7: No easy way, when getting back to the Scroll, to follow and to filter old posts



Easily Fixed Issues :


#1: Default font size is too small ( use the "Zoom" functionality of your web navigator - mine: 125% : ok )
Questions :
#1: How to send a message to a List of friends?
PROJECTS :

DATABASE CLEANSING :
Getting rid of useless threads, SUMMARIZING dead or too long threads, fixing links, etc.

OFFICIAL FAQ & HELP :
Where users could find out HOW to use this site and the new system

COMMUNITY WALL :
ASKING an Admin to display some PERSISTENT info to EVERYONE's attention

ELFQUOTES :
Scanning, gathering, and presenting ALL the published 'Elf-Quotes' from elf-friends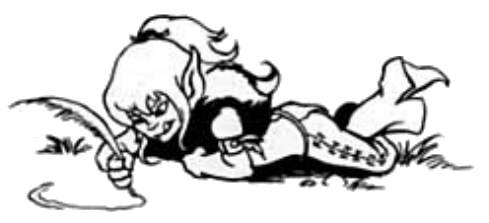 SENDING STARS :
Creating vibrant 'sending stars', integrating them to our avatars ( possibly animated ), etc.

ELFQUEST DOLLS MODELLING :
Creating models for 'dolls' along Wendy's graphic standards (elves, trolls, etc.)

ELFQUEST RESOURCES :
A collection of graphic resources ( cursors, buttons, etc. ) dedicated to elf-fans, in here.


Great Sun ! All the treasures I've found !..
Feel free to help me, elf-friends!
PLEEEEEEZE!..